Japan Supreme Court backs demoted pregnant woman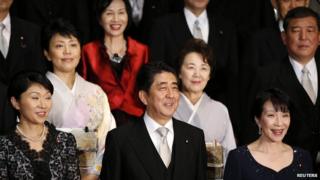 Japan's Supreme Court has backed a woman who unsuccessfully sued her employer following a demotion due to her pregnancy.
The case involves a physiotherapist who asked for a less strenuous role during pregnancy, but who was not reinstated to her higher position after returning to work.
Earlier rulings had sided with the medical co-operative that employed her.
The case will now go back to the lower courts for retrial.
"Under the gender equality law for employment opportunities, it is illegal and invalid to discharge or treat disadvantageously a female worker due to her pregnancy, as well as due to her request for maternity leave or a lighter workload," the Supreme Court said.
The physiotherapist says staying in the less strenuous role after her maternity leave was not part of the agreement with her bosses.
"I believe we'll see an overturned verdict," said Yumiko Akutso, a lawyer assisting the woman.
Promoting women
This has become something of a test case in Japan, where Prime Minister Shinzo Abe is actively trying to promote the role of women, both in politics and in business, in a society where men dominate both.
This is seen as a key way to counteract an ageing population that is becoming an increasing burden on state finances.
Following the Supreme Court's verdict, the government reiterated its support for women.
"It's against the law to terminate someone's employment, or to put someone at a disadvantage, because they are pregnant or have given birth," said Chief Cabinet Secretary Yoshihide Suga.
"The government would like to co-operate with various related ministries to ensure this point is understood thoroughly, and to offer support to workers."