Brazil's Cutrale and Safra up bid for Chiquita bananas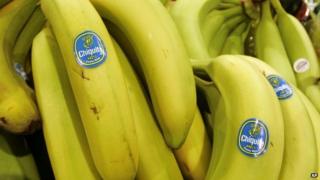 Brazil's Cutrale and Safra groups have upped their bid for banana giant Chiquita after a previous offer was rejected earlier this month.
The new bid of $14.50 a share values the company at about $680m (£424m), 4% higher than the previous offer.
Chiquita shares jumped 9% after the company said it would "carefully review and consider" the offer.
The bid comes the day before Chiquita shareholders vote on a separate merger deal with rival banana firm Fyffes.
If the deal - first announced in March - goes through, it would create the world's largest banana supplier, with $4.6bn in annual revenues.
In theory, it would also allow Chiquita to move its headquarters to the Republic of Ireland, where it would be subject to a lower tax rate than in the US.
However, the Irish and US governments have since announced plans to make it much harder for companies to take advantage of these so-called tax inversions.
Fruit juice firm Cutrale and investment bank Safra say their latest bid offers significantly greater value to shareholders.
The global banana market is currently controlled by four firms, Chiquita, Dole Food Company, Fresh Del Monte and Fyffes, according to the United Nations.