Qantas back on track to earn a profit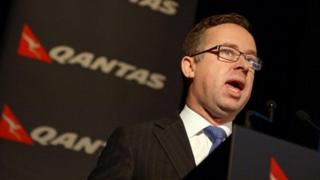 Australia's troubled national carrier Qantas said it is on course to deliver its first pre-tax profits this year in the three months to September.
The news comes after the firm reported a net loss of 2.8bn Australian dollars ($2.6bn; £1.6bn) for the 12 months to June - its biggest ever annual loss.
Shares of the Sydney-listed airline rose more than 3% before midday.
Qantas chief executive Alan Joyce made the announcement in Sydney at the company's annual general meeting.
In a report filed to the Australian Stock Exchange, Mr Joyce said he could confirm the airline had come through the worst.
Shareholders were told passenger numbers were up 2.7% in September compared to a year ago.
Mr Joyce also said yields for its international arm had been positive for six months in a row.
Behind the numbers
"Preliminary figures indicate that the group has made an underlying profit before tax for the first half of the financial year," Mr Joyce said.
Australia's financial year runs from July to June.
He also said it looked likely that the firm would deliver an underlying profit for the first half of the financial year, partly thanks to the weaker Australian dollar.
Managing partner of investment firm 100 Doors Peter Esho told the BBC the news was "good on the earnings front".
"But one needs to take into context that [they] are coming off a depressed level, and one of the largest input costs - fuel - has fallen significantly," he said.
"The market will want to see more momentum continuing before measuring the earnings base as stable, and this will take at least two years in our opinion."
Qantas had been struggling with poor domestic demand, lower consumer spending and rising fuel costs - all of which had contributed to the huge loss it posted for the year to June.
The national carrier has also been engaged in a price war with competitor Virgin Australia in its domestic market.
That net loss of A$2.8bn was the worst in the company's history.
However, Mr Joyce had said then the airline would return to underlying profit by 2015.