Ford profits drop on new F-150 truck costs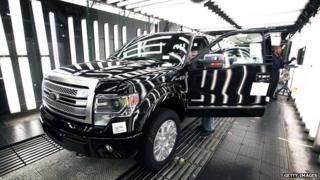 Ford has reported a sharp fall in profits, largely due to the cost of developing its new F-150 pickup truck.
Net profit for the three months to the end of September was $835m (£520m), down by a third from a year earlier. Revenue was up slightly at $35.8bn.
Ford said it invested "heavily" in new products and closed its Dearborn truck plant for five weeks to replace machinery to make the F-150.
The new truck is scheduled to go on sale later this year.
"During the third quarter, we continued to introduce an unprecedented number of new vehicles and invest heavily in the new products and technologies that will deliver strong profitable growth beginning next year," said the US car giant's boss Mark Fields.
The carmaker had warned that profits this year would be under pressure from new model launches, including the new Mustang, and the cost of building new plants in Asia.
In the first nine months of this year, Ford made a net profit of $3.1bn. Next year, it forecast "significantly higher" profits of between $8.5bn and $9.5bn, excluding one-off items.