Madison Square Garden explores splitting firm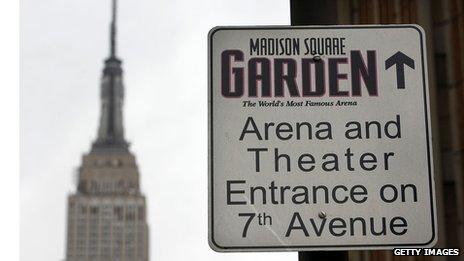 Madison Square Garden, owners of sports teams the New York Knicks and New York Rangers, may separate its businesses into two publicly-traded companies.
The firm said it is exploring a split between its entertainment business and media and sports businesses.
The proposal has been under internal consideration since July but no timetable has been set for the potential spin-off or its completion.
Its shares rose as much as 14% in after hours US trade following the news.
"Investors favour companies with greater strategic focus on their core businesses," Madison Square Garden (MSG) chief executive officer Tad Smith said in a statement.
"We are exploring the opportunity to improve upon the excellent shareholder return created since MSG's spin-off over four years ago by separating our business into two companies, each with its own distinct value proposition for investors."
The New York-based company said its entertainment business, which also runs Radio City Music Hall, would focus on event and venue management.
And it said the sports and media business would run its sports teams, which also include the National Hockey League's Rangers and the Women's National Basketball Association's New York Liberty, as well as regional television networks.
Madison Square Garden is controlled by the Dolan family, which owns about 69% of the company's voting shares.
Hedge fund JAT Capital Management is another major shareholder in Madison Square Garden, with a stake of more than 9%.