Takata sued in US over potentially dangerous airbags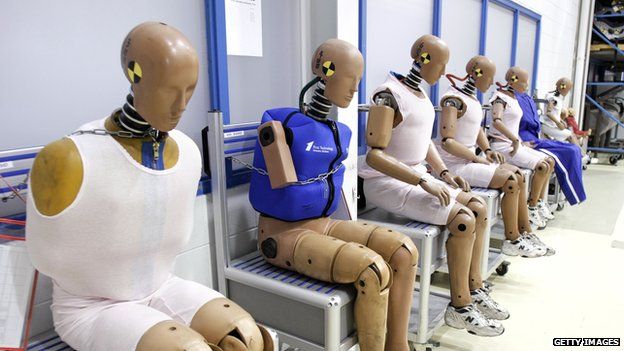 Japanese airbag manufacturer Takata and several carmakers that used its products are being sued in the US over allegations they sold unsafe vehicles.
The class action lawsuit comes after millions of cars were recalled over potentially dangerous airbags.
It claims Takata and automakers such as Honda and Toyota hid the alleged airbag defects from consumers.
At least four deaths and more than 30 injuries in the US have been linked to faulty airbags made by Takata.
The airbags can potentially spray deadly shrapnel at passengers if deployed with too much force.
Honda and Toyota are among the carmakers named as defendants in the case, which was filed in a US district court in Florida on behalf of consumers across the country
The lawsuit said Takata "had a duty to disclose these safety issues because they consistently marketed their vehicles as reliable and safe", Reuters said.
US car safety regulators are investigating whether Takata's airbags are defective and recently expanded a recall of vehicles with potentially dangerous Takata airbags to almost eight million.
The National Highway Traffic Safety Administration (NHTSA) also warned owners should take "immediate action" if they have an affected vehicle.
They have identified 10 manufacturers who used Takata as a supplier, including General Motors, Honda and Toyota.
Takata estimates that around 12 million vehicles around the globe may contain the parts.
The fallout from the recalls has already started hitting the bottom line at Japan's third-largest carmaker.
Honda cut its annual profit forecast for the first time in three years because of the recalls and slower sales in Japan and China.
Honda said on Tuesday that its operating profit fell 4.1% to 164bn yen ($1.5bn; £932m) in the July-September quarter, missing analyst estimates.
The recalls are also expected to have a negative impact on earnings at Japan's largest carmaker Toyota, which reports next week.
The company's chairman and chief executive, Shigehisa Takada, has issued an apology in response to the safety crisis caused by its airbags.
"We deeply regret that the recent recalls of vehicles equipped with our airbags have likely raised significant concerns and troubles to our product users, our customers, shareholders and other stakeholders," he said in a statement.
Takata shares have lost more than 50% of their value this year.
Related Internet Links
The BBC is not responsible for the content of external sites.