Standard Chartered quarterly profit falls 16%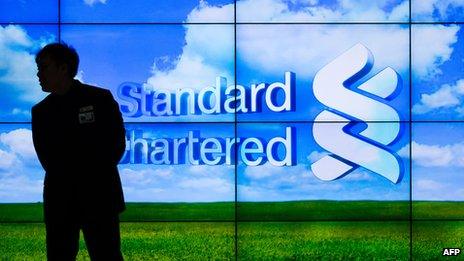 Standard Chartered has announced a 16% fall in operating profit because of a restructuring of its South Korean business and an increase in bad loans.
The Asia-focused lender said pre-tax profits fell to $1.5bn (£930m) in the July-to-September quarter compared to the same period a year ago.
Standard Chartered also warned full-year earnings would fall because of weak trading activity.
It also plans to cut an additional $400m in costs for 2015.
Standard Chartered chief executive Peter Sands, who has run the firm since 2006, said "trading conditions remain subdued".
"We are executing our refreshed strategy, including reprioritising investments, exiting non-core businesses, de-risking certain portfolios and reallocating capital," he said in a statement.
"We also continue to make progress in reshaping Korea. Whilst some of these actions will impact near term performance, they are crucial to getting us back to a trajectory of sustainable, profitable growth".
Mr Sands has been under pressure over the lender's weak performance over the last two years, which it attributes to a "challenging" market environment.
Standard Chartered shares have lost 20% of their value this year in London, compared to a 5% decline in the benchmark FTSE 100 index.
The lender makes about three-quarters of its profit in Asia but a slowdown in many emerging markets have hurt growth.
"We remain watchful in India, in China and of commodity exposures more broadly, where we have continued to tighten our underwriting criteria and reduce our exposures," it said.
Standard Chartered has also been facing heavy scrutiny from regulators.
In August, it warned that it may have to pay its second fine in two years over a breach of US anti-money laundering rules.
Related Internet Links
The BBC is not responsible for the content of external sites.