Fracking company applies for London licence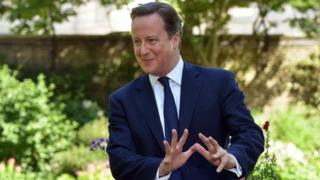 A new energy firm run by pro-fracking pundit Nick Grealy says it has applied for licences to frack in London.
London Local Energy has applied for permission to frack three blocks of land, two of which cover an area from Harrow in the North West to near Downing Street in central London.
Mr Grealy told the BBC the company had secured funding for the first year of works and had no shortage of backers.
The government has just closed licence applications for fracking in the UK.
Potential fracking sites have been identified across the country, but generally in rural areas.
One potential area where London Local Energy believes it could sink a fracking well is the Park Royal Industrial Estate near Willesden.
Parts of Surrey and Merton are also covered by the blocks of land the company has applied to drill.
'Crazy'
"The public debate on fracking has been uninformed and we want to prove to people that we can have an oil and gas industry in London," Mr Grealy told the BBC.
"The first thing most people say is, 'We're crazy,' but the more we look at it, the more we think it is possible.
"We're not going to be the next Saudi Arabia, but we think we can produce noticeable amounts of oil and gas from 2018 onwards."
Mr Grealy, who has been a staunch and vocal supporter of fracking, argues there are many misconceptions about the process, which involves pumping large amounts of water, some chemicals and sand at high pressure into shale rocks to release the gas trapped inside.
"We want to light a fire under the debate and we want to make money as well," he said.
He argues that one of the main objections many people have to fracking, or hydraulic fracturing, is the noise and disruption to local communities. This would not be a problem in London, with its high level of traffic and noise, he says.
He also says fracking does not take up much land as most of the drilling takes place horizontally underground.
Concerns
The government is keen to promote fracking in the UK as a way to boost domestic energy production, thereby reducing reliance on imported power.
However, there is a strong anti-fracking lobby, which argues that the process is too water-intensive and damaging to the environment.
Concerns have been raised about how to dispose of waste-water, which contains heavy metals and radioactivity, and the potential for fugitive methane - a potent greenhouse gas many times more powerful than CO2.
The industry argues that, with proper regulation in place, these concerns are unfounded.
Critics also argue that although gas is cleaner than coal, it is still a fossil fuel that emits CO2 when burnt and diverts investment away from cleaner renewables.