Heathrow expects faster passenger growth as sales rise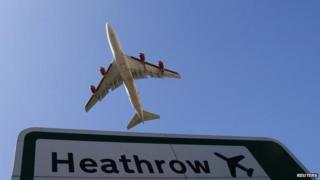 Heathrow has reported higher sales and says it expects passenger numbers to grow at a faster rate.
Revenue climbed 8.2% to £1.99bn in the nine months to end of September after passenger numbers rose and the company made more money per passenger.
Traffic for 2014 could now reach 73.4 million passengers, an increase of 1.5% from 2013, compared with the previous forecast of 72.8 million.
Pre-tax profits at Heathrow fell to £58m, down from £266m.
However, most of the drop was down to money it booked last year on its sale of Stansted airport.
The company had a one-off gain of £292m last year after selling Stansted. The group was told to sell Stansted by competition authorities.
Stansted sale
Heathrow recorded £6.34 in revenue per passenger in the nine months, up from £6.24 in the same period last year, and passenger numbers rose 1.5% to 55.7 million.
"Heathrow continues to deliver against key targets, with more passengers than ever choosing to use Heathrow," said chief executive John Holland-Kaye.
Heathrow is owned by a consortium of companies, led by Spanish construction firm Ferrovial.
The group used to include Aberdeen, Glasgow and Southampton airports, which were sold in a £1bn deal earlier this month.