Australia's ANZ bank announces record annual profit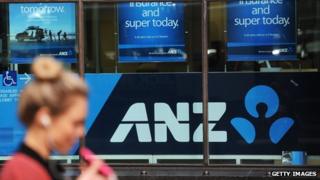 One of Australia's biggest lenders, ANZ, has announced a record full-year net profit of A$7.3bn ($6.4bn, £4bn), up 15% from a year earlier.
In a statement, the lender also said its cash profit rose 10% to A$7.1bn during the same period.
The cash profit number is the bank's preferred measure of performance and came in line with expectations.
ANZ attributed its results, in part, to gains in its Asian operations.
The bank's annual results follow an announcement from rival National Australia Bank (NAB) on Thursday of a 10% fall in annual cash profit, due mainly to problems at its UK operations.
NAB's A$4.5bn profit result was described as disappointing by its chief executive, Andrew Thorburn.
ANZ and NAB are among the top four banks in Australia, together with Westpac and Commonwealth Bank. ANZ is regarded as the nation's third biggest bank by market value.
Australia's banking sector, particularly the so-called top four, is regarded as being highly profitable.
ANZ Chief Executive Mike Smith said it was a good performance from the bank and noted its overseas operations.
"The result also saw continued momentum from our international business in Asia Pacific, Europe and America," he said, "which now accounts for 24% of group revenues."
Mr Smith said the annual results provided the bank with more options for growth "without the need to take on more risk".
"With the phase of high investment in Asia largely complete, we are seeing a greater share of Asia-led revenue growth translate to profit," he said.
Not all good
Managing partner of investment firm 100 Doors Peter Esho told the BBC the result was reasonable, but that the record numbers were due to the bank's reduction of its bad debt expenses, which would not always be the case.
"Eventually the cycle will turn and bad debt costs, particularly through the Asian expansion, will come back and become an issue," Mr Esho said.
ANZ is not growing revenue enough to offset these issues, he added.
"So for us, we think the next few years will be slightly more challenging and a test for ANZ's ability to withstand the good times with the bad in Asia."
Shares in the bank rose on Friday, closing the trading day up more than 0.7%.
The rise follows a suspension from trade on Monday after the lender accidentally published part of its full-year profit results.