British Airways owner IAG raises profit forecast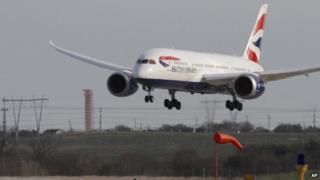 The parent company of British Airways, IAG, has raised its profit forecast after it reported a 30% increase in third-quarter profits.
Operating profits at IAG rose to €900m (£708m) in the three months to 30 September, up from €690m a year ago.
IAG added that it expected an improvement in annual operating profits of €550m-€600m, compared with previous guidance of a rise of at least €500m.
IN addition to BA, IAG also owns the Spanish airlines Iberia and Vueling.
IAG chief executive Willie Walsh, said: "We continued to grow capacity efficiently and both our non-fuel and fuel unit cost performances were strong with the latter boosted by the introduction of new, more efficient aircraft into our fleet."
Operating profits at British Airways rose to €607m from €477m a year earlier. Profits at Iberia - which has been undergoing a big restructuring - rose to €162m from €74m last year.
The strong results from IAG contrast with results from Air France-KLM and Lufthansa released earlier this week.
On Thursday, Lufthansa cut its operating profit guidance for 2015, citing concerns about a global economic slowdown and "fierce competition" over fares.
The previous day, Air France-KLM said that last month's pilots' strike had cost it €416m in lost revenues, and reported third-quarter operating profits of €247m, down from €641m a year earlier.
"IAG management has today increased pressure on its European rivals, upping its full year profit forecast," said Keith Bowman, equity analyst at Hargreaves Lansdown Stockbrokers.
"Cost reduction at the company remains central. More fuel efficient aircraft are playing their part, with restructuring initiatives and resulting increased staff productivity at Iberia again contributing."