Asian markets lower on China PMI data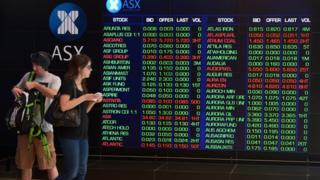 Asian shares fell after surveys of China's economy suggested growth was slowing.
A survey released on Monday indicated China's services sector grew at its slowest pace in nine months in October.
The non-manufacturing Purchasing Managers' Index (PMI) fell to 53.8 in October from 54 in September, due in part to a cooling property market. A reading above 50 indicates growth.
The Hang Seng index closed down 0.34% in Hong Kong at 23,915.97 points.
Monday's data comes after a weekend release that indicated manufacturing slowed in the world's second largest economy.
The manufacturing PMI fell to a lower-than-expected 50.8, from 51.1 in the previous month.
But, shares on the mainland bucked the trend with the Shanghai Composite finishing the day up 0.41% at 2,430.03 points - one of its highest finishes since February 2013.
Japanese markets were closed for a public holiday after hitting highs on Friday following the Bank of Japan's surprise move to introduce more stimulus measures.
In South Korea, the benchmark Kospi index ended 0.6% lower at 1,952.97 after data over the weekend showed imports in October fell the most in 13 months on softer demand for raw materials and goods.
The Korean won also slid to a seven-month low against the dollar to 1,072.6.
Australian shares closed down 0.4% at 5,506.4 with shares in the country's second biggest bank, Westpac, down 0.7% even after it posted a fifth consecutive year of record profit.
The banking giant saw a 12% jump in full-year net profit to 7.56bn Australian dollars ($6.60bn; £4.1bn) on the back of growing loans and customer deposits.