Ryanair raises profit forecast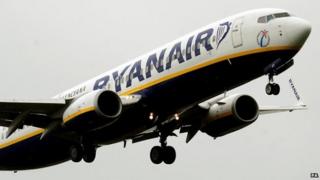 Ryanair has lifted its full-year profit forecast and reported a 32% rise in half-year net profit to €795m (£621m).
The no-frills airline said full-year profit would now be between €750m and €770m, compared with its previous forecast of €650m.
Passenger numbers rose 4% in the first half of the year, and it now expects traffic to rise 16% in the second half.
It cautioned the raised guidance was "heavily reliant" on the strength of second-half bookings.
The carrier said its average fare rose 5% in the first half of the year to €54.
However, chief executive Michael O'Leary told the BBC that "slightly higher" summer fares would be used to "slash" winter fares "by between 6 and 8%". He thought this would leave full-year prices flat or up only slightly.
The airline has signed a deal for as many as 200 additional Boeing aircraft, which have extra seats and more legroom.
The planes, which are due to be delivered between 2019 to 2024, would "significantly lower" its unit costs and enable it to cut fares further, Ryanair said.
"As these strong H1 results and raised full-year guidance demonstrate, our business model is performing well but much work remains to be done," Ryanair said.