More German rail strikes likely as pay talks break down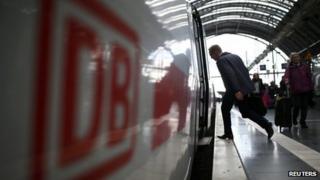 Talks aimed at averting further strikes by German train drivers have broken down, the country's rail operator Deutsche Bahn said.
German media reported that the drivers' union, GDL, planned a statement later on Monday detailing further strikes.
Millions of passengers were hit during a 50-hour strike in October over a pay dispute, action that was followed by a pilots' strike at airline Lufthansa.
GDL is seeking a 5% pay rise for 20,000 drivers and a shorter working week.
Another issue in the dispute is GDL's demand to set wage deals for around 17,000 train guards and other staff.
A spokesman for Deutsche Bahn told Reuters that the company was surprised by the collapse of talks as progress was being made. Ulrich Weber, head of personnel at Deutsche Bahn, reportedly called GDL an "unreliable negotiating partner".
Germany's employers group, the BDI, has warned that the train drivers' strike, and the ongoing actions at Lufthansa, are damaging the country's economy and image.
The train drivers' previous strike hit about two-thirds of the rail network.