Eurozone economic forecast cut by European Commission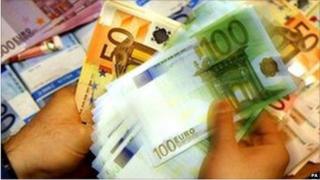 The economy of the 18-country strong eurozone will grow by just 0.8% this year, the European Commission has said.
The forecast is below the 1.2% estimate made earlier this year. The commission has also has cut its growth forecast for 2015 to 1.1% from 1.7%.
EU vice president Jyrki Katainen said "the economic and employment situation is not improving fast enough".
The report predicts that inflation in the eurozone will continue to be low and employment high.
Continuing weakness in France and Italy would keep the brakes on recovery, it said.
The EU executive said the eurozone's economy would not now reach a growth rate of 1.7% until 2016.
---
Andrew Walker, BBC economics correspondent, writes:
The Commission's new forecasts are gloomy for sure, but they do represent an improvement on where the eurozone is now. The most recent figures on actual, rather than predicted, performance showed no growth at all and declining economic activity in Germany. That was the second quarter of this year. So we will need better than that if the Commission's projections for 2015 are going to be fulfilled. Maybe they will be. Gradually, the ECB has taken steps to stimulate the economy. There could be more in the coming months and the restraint caused by austerity is easing. There are certainly signs of improvement in some of the casualties of the crisis, notably Spain and Ireland. But there are now concerns about the big economies - Italy, which is not new, France, and even Europe's traditional powerhouse, Germany.
---
The director general of the commission's economics department, Marco Buti, said the roots of the eurozone's troubles were in the global credit crunch of 2008.
"The slowdown in Europe has occurred as the legacy of the global financial and economic crisis lingers," he said.
"We see growth... coming to a stop in Germany... protracted stagnation in France and contraction in Italy."
The eurozone's woes are also central to the recovery in the rest of the world.
Both the UK and the US, whose economies have been picking up, are being held back by slow demand in the eurozone.
Eurozone inflation is forecast to be 0.5% this year, 0.8% in 2015 and 1.5% in 2016, While this is well below the European Central Bank's target of close to 2%, it means that deflation, considered at least as dangerous as high inflation, should be averted.