The red hot business of divorce celebration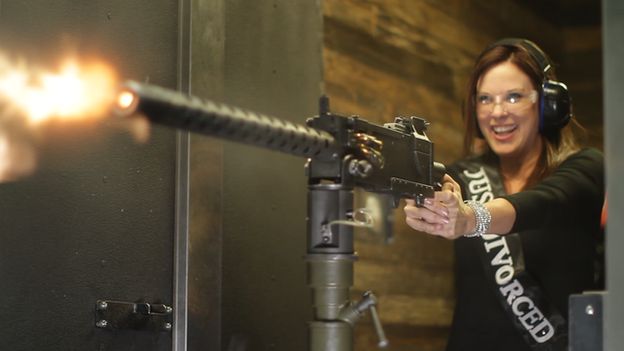 After finalising a painful divorce Wendy Lewis decided there was only one way to celebrate - by blasting her wedding dress with a machine gun.
To get the job done the newly divorced American gathered her female friends - and the dress - and flew to Las Vegas, Nevada for a long weekend.
Upon arrival in Vegas the trip to a shooting range was arranged by a small firm at the forefront of one of the city's fastest-growing business sectors - divorce party planning.
And while what happens in Vegas is supposed to stay in Vegas, the planner in question, Glynda Rhodes, 51, is happy to take up the story.
"Ms Lewis had never picked up a gun before, but she brought her wedding dress into the shooting range and hung it up," she says.
"Oh if you could have seen the look on her face when she was shooting at her dress. You could just feel that she was letting all that anger out."
A long-established Vegas-based events planner, Ms Rhodes was historically more used to organising bachelor and bachelorette parties (stag and hen dos) for the hordes of young Americans who fly into the city for one last celebration of single life.
Estimates vary as to the proportion of marriages in the US that end in divorce but some analysts put it as high as half, and Ms Rhodes (herself a divorcee) started to receive a growing number of inquiries from people - both women and men - wishing to celebrate the end of their wedlock.
So in 2012 she launched a new company - The Divorce Party Planner - and the business has boomed ever since, a situation mirrored at similar firms in Vegas and across the US.
In addition to the visits to shooting ranges, a popular option called "Glocked and Loaded", Ms Rhodes arranges for divorce parties to get entry to nightclubs, get tables at restaurants, play rounds of golf... or visit strip shows.
She also organise skydives for people who want to "jump right back into being single".
Ms Rhodes says that the cost of the set packages - which have names such as "Barely Survived", "Self Sufficient", and "I Got It All" - typically range from $1,000 to $4,800 (£600 to £3,000).
For those of us who might wish to throw a more modest and sedate party to mark the end of a marriage, ordering a "divorce cake" could be the way forward.
At one bakery in Florida, Elite Cake Creations in Cooper City, near Miami, they are now getting three to four requests for divorce cakes each month.
Owner Beatriz Otero, says she once made a cake for a male client who asked for it in the shape of a golf bag, with a sign on it that read "free at last, going golfing".
Most requests, however, are for a picture of a bride dragging a groom by the leg, with a sign that says "take him to the trash".
Other cakes may feature grooms being eaten by an alligator, or dismembered in a Jacuzzi.
Ms Otero says: "For one of my customers we did her wedding cake, then five years later we were doing her divorce cake.
"Relationships are hard. My way of helping them is making a sour situation a little bit sweeter."
An Elite Cake Creations' divorce cake for 10 people typically costs about $70, with the customer being able to choose from more than 150 different flavour and fillings combinations.
While entrepreneurial small firms across the US are happily making money from the increase in the number of people celebrating a divorce, why has the phenomenon grown so strongly in recent years? And is it a good thing?
Psychologist Robin Deutsch, director of the Centre of Excellence for Children, Families and the Law, at the Massachusetts School of Professional Psychology, says it is a development that should be welcomed.
"The growth of the divorce [celebration] industry speaks to the fact that people want to acknowledge loss through ritual," she says.
"Many people find release through it - I had one couple in my office who said their vows backwards.
"I think it gives them a sense of hope and closure, it's a positive thing.
"People do what they feel they need to do to move on. What they do, what kind of ritual they have, that's their choice."
In the Netherlands, one company is hoping to help more couples celebrate their divorce - together.
The business in question is called Divorce Hotel. For a flat fee of about 4,000 euros ($5,000; £3,000), couples going through a divorce check into a hotel on a Friday. They then meet a solicitor who acts as a mediator over the weekend, before checking out on Sunday - divorced.
The company is the brainchild of former marketing man turned entrepreneur Jim Halfens, who thinks that going through a divorce should be quick, and not too expensive.
He came up with the idea after seeing a friend go through a tough divorce, and after time working for a legal firm.
Rather than owning hotels, Divorce Hotel has partnered six such establishments across the Netherlands, and one in New York. Mr Halfens now plans to expand to other countries.
"We are convinced that when couples decide to divorce they want to do it in a positive and decent way, not fight for years," he says.
After signing the divorce papers on the Sunday, many couples drink champagne together to celebrate, says Mr Halfens, who claims that the company has a 95% success rate.
Yet for those divorces that are significantly more acrimonious, there is always the option of ultimately shooting up your wedding dress in Las Vegas.
Related Internet Links
The BBC is not responsible for the content of external sites.