British business should be less polite, says the Duke of York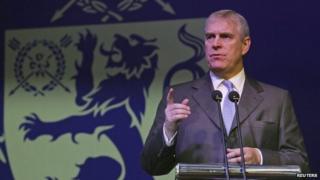 The Duke of York has told the BBC that British business needs to be less polite, more competitive and embrace the Chinese market.
"There are other nations that are more keen to get the job than we are," he said.
He said companies needed to be "more bullish" in their dealings with China.
But investment expert Ewan Cameron Watt told the BBC that some entrepreneurs' "blood will be boiling" at suggestions they are not trying hard enough.
Prince Andrew, who spent a decade travelling the world as the UK's special trade representative, told 5 Live's Wake up to Money programme: "We have a large amount of economic activity with the United States so we should not be afraid of having a large amount of activity with China."
"We are happy that we've taken part, done our best, but our best isn't good enough... we don't muscle, we don't push and shove, we're polite. It's British phlegm."
Young entrepreneurs
"We need to be more competitive and fight for what we have and what we've got, rather than being happy with being second best,"
"When I first went to China we were considered the Monday-to-Friday country, whereas the Germans would stay for the weekend. We have to think of that. But when I went to China recently, I was amazed at the number of Union flags I saw. It was extraordinary."
Prince Andrew gave up his title as Britain's "special representative" for Trade and Investment in 2011.
The prince had been criticised over his friendship with controversial figures, including convicted sex offender Jeffrey Epstein, an American financier.
He also held controversial meetings with Libyan leader Col Muammar Gaddafi's son Saif, and entertained the son-in-law of Tunisia's ousted president Zine El Abidine Ben Ali at Buckingham Palace.
The Duke is hosting an event on Wednesday to encourage young entrepreneurs.
However, some of the Duke's comments about UK business won't go down well with everyone, said Mr Cameron Watt, managing director at BlackRock Investment Institute.
"I understand the general comments, but I think there are a lot of people out there running businesses who might fell a little bit patronised," he said.