Eurozone economic weakness continues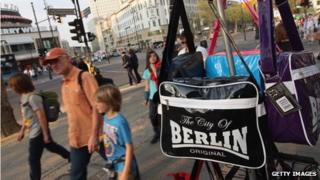 More evidence of economic weakness in the eurozone has come from the latest retail sales figures and a survey of business growth.
Retail sales in the 18-nation bloc fell 1.3% in September from August, official data from the Eurostat statistics agency showed.
Meanwhile, growth was minimal across all sectors, according to the latest Markit Purchasing Managers' Index.
European policymakers have been introducing measures to boost growth.
'Limping along'
The Eurostat figures show that Germany, traditionally the driver of eurozone growth, suffered the biggest fall in retail sales, down 3.2% for the month.
The next biggest fall was in Portugal, down 2.5%.
Rises in retail sales came only in smaller eurozone countries, such as Malta, Luxembourg and Austria.
Eurostat also revised down the August monthly rise to 0.9% from the previously reported 1.2%.
Meanwhile, Markit's composite PMI reading, based on surveys of thousands of companies across the eurozone, edged up from 52 to just 52.1.
Although any reading above 50 indicates expansion, October's minimal rise was smaller than economists had hoped for.
"The eurozone PMI makes for grim reading, painting a picture of an economy that is limping along and more likely to take a turn for the worse than spring back into life," said Chris Williamson, Markit's chief economist.
Pressure on ECB
Sarah Pemberton, European economist at Capital Economics, said: "Today's data provided more evidence that the eurozone economy remained very weak in the third quarter.
"What's more, there are few early indications of an improvement in Q4, putting additional pressure on the ECB to provide more policy support."
In September, the European Central Bank (ECB) cut its benchmark interest rate to 0.05%, and introduced new stimulus measures in an attempt to boost growth.
The ECB will announce the outcome of its latest meeting on Thursday. However, fresh action is thought highly unlikely, with economists saying that the ECB will want to assess further the impact of its previous measures.
On Tuesday, the European Commission predicted that the eurozone would grow by just 0.8% this year.
The forecast is below the 1.2% estimate the commission made in spring. It also cut its growth forecast for 2015 to 1.1% from 1.7%.