Chinese PC maker Lenovo reports 19% rise in profits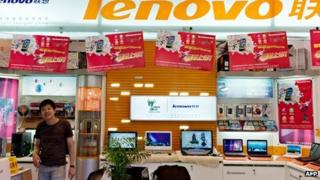 Chinese computer giant Lenovo has beaten expectations to announce a 19% rise in net profits for the three months to September.
The world's biggest maker of personal computers reported profits of $262m (£163.8m) for the period.
The firm said its revenue for the quarter also rose by 7% to $10.5bn, although that was below expectations.
Lenovo shares fell on the news, but the results mark a continued demand for the firm's PCs, tablets and smartphones.
In October, Lenovo completed its takeover of Google's Motorola Mobility division, which gave it control of the unit's Moto and Droid-branded handsets, as well as 3,500 new employees, including 2,800 based in the US.
"The acquisition of the Motorola brand and Motorola's portfolio of innovative smartphones like Moto X, Moto G, Moto E and the DROIDTM series... positions Lenovo as the world's third largest maker of smartphones," the firm said.
Lenovo also purchased IBM's low-end server business earlier this year.
The Beijing-based firm became the world's bestselling PC maker after its takeover of IBM's personal computer business in 2005.