CBI boss calls for Stonehenge tunnel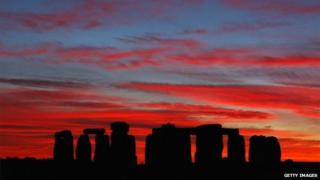 The head of the business lobby group, the CBI, has called on the government to revive plans to build a tunnel underneath Stonehenge.
Mr Cridland said it would give the economy a boost by reducing congestion on the busy A303 road.
"The most significant barrier is Stonehenge. You obviously can't move it, so why not go under it?", he said in an interview with PA news agency.
An announcement is expected in this year's Autumn Statement.
The A303 runs from Honiton in Devon to Basingstoke in Hampshire and is regularly hit by bottlenecks around the World Heritage Site.
Mr Cridland, speaking ahead of the CBI's annual conference on Monday, said that the plans for a tunnel would cost about £1bn. Plans to upgrade the A303 were first discussed seven years ago but were dropped for being too expensive.
In a statement, National Trust said that it too thought a tunnel was the best solution as the huge volumes of traffic were detrimental to the site.
"We believe building a tunnel under the landscape is the best way of improving the quality of this special place whilst at the same time significantly improving a major transport link for the South West," said Ian Wilson from the National Trust.
"We would like to see the longest possible tunnel but we recognise that any plan needs to be both affordable and deliverable if we're to finally solve this long-running challenge," he added.
The proposal was also backed by English Heritage, which said: "This is an important and timely intervention in the debate about what to do with the A303 as it travels through the Stonehenge landscape."