Serco shares plunge after it unveils plans to raise £550m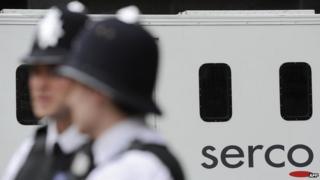 Outsourcing firm Serco's shares have plunged 32% after it unveiled plans to raise up to £550m through selling new shares and cut its profit forecast.
It also expects to write off £1.5bn connected to losses on contracts.
The move follows a review after a number of failed contracts including a scandal over tagging criminals.
Last year, Serco was banned from UK government contracts for six months after it was accused of tagging people who were either dead or in jail.
"Whilst it is a bitter pill, it is better for all concerned that we swallow it now and establish a really solid foundation on which to build Serco's future," said Serco chief executive Rupert Soames.
Shares lost nearly a third of their market value, closing down 32% at 215p.
Mr Soames, who was formerly chief executive of engineering firm Aggreko, took over as Serco boss in May.
As a result of the changes, Serco said it would hold discussions with its lenders to negotiate changes to the terms of its loan facilities.
The company said its forecast for operating profit in 2014 profit had been cut by about £20m to £130m-£140m, and it had also reduced its outlook for 2015.
It said a plan to sell off businesses which were not core to its future plans was already underway.
Serco said the review, which is still continuing, had clarified its future direction and meant from now on it would concentrate on its role as a public services supplier.
"There are a tough couple of years ahead as we make this transition, but it will be worth it," added Mr Soames.