UAE's female designers fashioning a bright future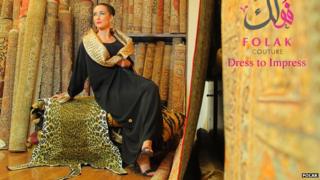 For Khawla bin Khedia it was receiving compliments about her homemade clothes that first set her on the path to becoming a professional fashion designer.
"In my first year of university people often stopped me to say that they liked what I was wearing, and ask where I bought these things," says the 21-year-old Emirati.
"Then my friends started telling me that I should create a clothing line. I wasn't sure to start with, but my friends and family pushed me towards it."
Ms bin Khedia runs a Dubai-based fashion label with her 19-year-old sister Roadha.
Their company, Khawla W Roadha, was founded just over a year ago, and its clothes are now stocked at a number of boutiques in the United Arab Emirates (UAE), and in neighbouring Qatar.
'Revolution in mentality'
The sisters' story is far from unique in the UAE, where a growing number of young Emirati women are setting up their own fashion businesses.
The increase comes as authorities across the UAE continue to encourage more female Emiratis to enter the private sector.
For fellow fashion designer Sara al-Madani there has been a societal shift in attitudes in recent years.
Ms al-Madani established her company in 2010 in Sharjah, near Dubai, when she was just 15.
"When I was setting up this business it was still a man's world," she says. "We have [since] seen a revolution in the mentality."
Women now account for 30% of business owners in the UAE, according to a 2013 entrepreneurship report by Zayed University, which has campuses in both Abu Dhabi and Dubai.
Meanwhile, an earlier study by the university found that the number of female entrepreneurs in UAE rose by 1.4% in 2011, compared with negligible growth of 0.1% in 2006.
The hope is that female Emirati entrepreneurs will eventually reach parity with their male counterparts, or even overtake them as they have done in the well-paid public sector.
This follows a huge increase in the number of women working for the government, which has gone up from less than 5% of public sector employees in 1975, to 13% in 1995 and 59% in 2012.
'Like a hobby'
It's not only the UAE's changing policies that have assisted would-be female entrepreneurs - the country's work culture is also helpful.
As the working day tends to start early and finish around 14:40, Emiratis of both sexes have found that they don't necessarily need to choose between a well-paid government job and starting their own business.
"I work for the government, but dedicate my free time to my business," says Fatma al-Mosa, 35, an Emirati who designs abayas, the traditional robe-like dress worn by many women in the Gulf region.
"I work at the weekend and after the [office] working hours."
Ms al-Mosa created her business Folak in February this year. She has seven employees but insists that she has no plans to quit her day job as director of communications for the Abu Dhabi government.
Ms bin Khedia currently works full-time on her fashion business, but from January will split her time between the company and a public sector job.
She adds that this will see her return to how she ran the company when she was a university student - the staff would work on their own in the morning, with her joining them from 13:00 to 18:00.
Connie Van Horne, an assistant professor involved in researching small businesses at Zayed University, says: "Eighty percent of Emirati entrepreneurs work full-time - and most of them work for the government."
She adds that for many, their small firms are "like a hobby".
Social media criticism
To help promote their companies, Ms Van Horne says that most young female fashion designers use social media.
"Most of these fashion companies start on Instagram," says Dr Van Horne. "They're doing Instagram and Twitter - and some Facebook.
"They're also using [messaging services] Whatsapp and BBM."
Abu Dhabi-based Noor Alsherif is one such designer who puts photos of her clothes up on Instragam.
"Instagram is easy and fast," says the 34-year-old.
However, there are downsides to any business using social media, such as members of the public being able to easily - and directly - criticise.
Sumayyah al Suwaidi, 33, a designer from Abu Dhabi, says: "I got a lot of negative feedback after my show in London last year.
"I had see-through abayas, and the models were wearing one-piece [swimwear] underneath.
"In the UK [the response] was fantastic, but when the pictures started going around here I had a lot of girls telling me that they did not want their abayas represented in this way in the West.
"But I did it in this way for the West [because] they wouldn't wear it in the same way that we wear it."
Some of the young female designers have also faced criticism for having had very little or no fashion design training. There are signs that this is changing, however.
More than 40% of students studying at the Esmod Dubai fashion school are Emirati women, according to its chief executive Tamara Hostal.
Ms al Suwaidi adds that a lot of Emirati families are now supporting their daughters in becoming fashion designers.
"[Families] are seeing the potential and the income in fashion," she says. "The fashion business in the UAE is booming."