Bank of England fires chief forex dealer in wake of probe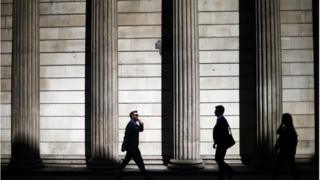 The Bank of England has sacked its chief foreign currency exchange dealer, Martin Mallett, in the wake of an internal investigation into rate manipulation.
The bank stressed that Mr Mallett had been fired over failure to adhere to internal policies, and not over rate-rigging allegations.
The inquiry was triggered by an international investigation.
An expert said the probe was embarrassing for the bank.
'Serious misconduct'
Mr Mallett, who was suspended in March, was dismissed on 11 November "for serious misconduct relating to a failure to adhere to the bank's internal policies," the bank said.
The misconduct came to light during an internal probe into forex rate manipulation.
The probe, led by barrister Lord Grabiner, was launched in March following allegations that a senior member of staff had been told of "attempts to move the market".
"The individual's [Mr Mallett's] dismissal was not at all related to the allegations investigated by Lord Grabiner, but as a result of information that came to light during the course of the bank's initial internal review into allegations relating to the FX market and Bank [of England] staff," a spokesperson for the bank said.
'No bad faith'
Lord Grabiner found that Mr Mallett was aware that bank traders were sharing aggregated information, which "is not necessarily improper, but can increase the potential for improper conduct".
Mr Mallett "was uncomfortable with the practice in that it could involve collusive behaviour and lead to market participants being disadvantaged", the bank said.
He did not escalate the issue to an appropriate person in the bank, which was "an error of judgement", but Mr Mallett "did not act in bad faith", the probe found.
Lord Grabiner's findings included that the bank should "review its controls around market intelligence being, intentionally or not, passed to other market participants".
The BBC understands that Mr Mallett was not dismissed in relation to any of Lord Grabiner's findings.
The bank has a number of internal policies, including rules on data security, confidentiality and behaviour.
A Bank of England spokesperson declined to specify the internal policies that Mr Mallett had breached.
'Embarrassing'
Banking expert Philip Augar said Mr Mallett's dismissal, and the probe, were embarrassing for the bank in its role as a regulator.
"It is important," Mr Augar said.
"The Bank has a currency dealing desk," he added. "Why didn't the Bank of England spot it [the rate manipulation]?"
On Wednesday, HSBC, Royal Bank of Scotland, Swiss bank UBS and US banks JP Morgan Chase and Citibank were fined £2bn by UK and US regulators.
A separate investigation into Barclays is continuing.
Separately, the Swiss regulator, FINMA, penalised UBS 134m Swiss francs.
The regulators found that certain foreign exchange traders at the banks had co-ordinated their trading with one another to attempt to manipulate benchmark foreign exchange rates.