Housing market dip only temporary, says Rics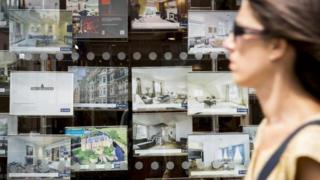 A dip in activity in the UK housing market and slowing property prices will only be "temporary", surveyors say.
Demand from new buyers slowed for the fourth consecutive month in October, the Royal Institution of Chartered Surveyors (Rics) said.
Sales also declined during the month in all but a few regions of England and Wales, Rics said.
However, surveyors said they were confident the market would pick up in the medium term.
The survey suggested that buyer inquiries had fallen in all regions of England and Wales. As a result, sales also fell in every region except south-west England, Yorkshire and Humberside.
Simon Rubinsohn, chief economist at Rics, said that potential buyers across the UK were being a "little more cautious" owing to stricter rules surrounding mortgage applications.
Other surveys have suggested that fears of a potential rise in interest rates had curtailed some demand from buyers.
However, there had been a "post-referendum bounce" in activity in Scotland during October, Rics said. Northern Ireland was also seeing a continued recovery.
House price calculator
Use our calculator to see where you can afford to rent or buy