China's economy shows more signs of weakness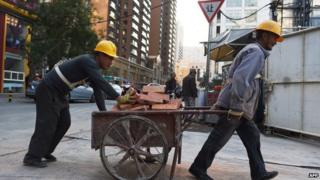 A slew of economic data out of China, which came in below forecasts on Thursday, has highlighted the continuing downward pressure facing the Asian giant.
China's industrial output rose 7.7% in October from a year ago, while retail sales grew 11.5% in the same period.
Economists were expecting growth of 8% and 11.6% respectively.
Another important economic indicator - fixed asset investment - fell to 15.9% in October from 16.1% in September.
This, added to the fact that China's growth slowed to a more than five-year low in the third quarter from a year earlier, is building the case for more stimulus from the government to prevent a even sharper slowdown.
"Chinese core October data came in uniformly softer and below consensus. Industrial output slowed to 7.7% year-on-year, the second weakest pace since the Lehman crisis, likely on pre-Apec factory closures," said Dariusz Kowalczyk, economist at Credit Agricole.
"The data highlights downward pressure on the mainland economy. It will encourage further monetary easing."
While calls for more easing from the government have been around for some time, Beijing has yet to step in with major support measures.
Zhou Hao, economist at ANZ Bank said that while it was unlikely that the fourth quarter would pick up from the downward trend, it might also be too late for Beijing to introduce measures this late in the year.
"If the government really wants to turn around the growth profile, right now is a little bit too late to do that," he said.
Sluggish factory production in recent months and a weakening housing market has been putting the government's annual growth target of 7.5% at greater risk, but Louis Kuijis, an economist at RBS, agreed that response from policymakers would continue to be "restrained".
"We do not expect major new stimulus steps unless growth takes a major turn for the worse and/or the labour market gets hit more seriously," Mr Kujius said.
China's labour market has been holding up despite the drag on other sectors.
The official urban unemployment rate was 4.07% in September, barely changed from 4.08% three months earlier.