Virgin Money prices shares at 283p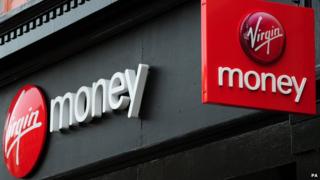 Virgin Money, the UK bank part-owned by entrepreneur Sir Richard Branson, has announced its shares will be priced at 283p each when it lists on the London Stock Exchange.
That will give the company a market capitalisation of of approximately £1.25bn, the company said.
Employees will each receive £1,000 worth of shares in the business.
Shares are expected to start trading officially on 18 November and the bank expects to raise £150m from the sale.
Unofficial trading started on Thursday.
Chief executive Jayne-Anne Gadhia said: "As we begin life as a public company, we are committed to maintaining the straightforward, transparent approach to business that we believe helps differentiate us.
"We are passionate about improving competition in UK retail banking and believe that today's IPO is another step forward for us as we seek to deliver on that objective," she said.
On completion of the initial public offering, the company says it will repay the government the final £50m that it owes for its 2011 purchase of part of Northern Rock.
It bought the banking and mortgage lending arm of the old Northern Rock bank, which was bailed out by the Bank of England in the autumn of 2007 at the start of the international banking crisis.
Northern Rock was nationalised in early 2008, then in 2010 it was split in two - Northern Rock plc and Northern Rock (Asset Management), into which was placed its bad debt.
Virgin Money's final £50m payment will take the amount it has paid the Treasury for Northern Rock to £1.02bn.
Sir Richard Branson will hold a 34% stake in the business after the listing and US billionaire Wilbur Ross will hold 33%.