CML: Low interest rates keep home repossessions down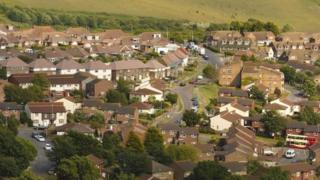 Continued low interest rates and mortgage market competition has led to another fall in the number of homes repossessed in the UK, figures show.
There were 5,000 homes repossessed in the third quarter of the year, the Council of Mortgage Lenders (CML) said.
This compared with 5,400 in the previous three months and 7,200 in the same quarter last year.
Homes are repossessed by lenders when owners fall too far behind on their mortgage repayments.
The CML said that lenders were preparing to support owners when the cost of borrowing went up.
However, research had suggested that many households were preparing for an interest rate rise, despite the view of the Bank of England that any imminent rate rise was unlikely.
"We expect any uptick in payment difficulties to be relatively muted if and when rates do begin rising," said CML director general Paul Smee.
House price calculator
Use our calculator to see where you can afford to rent or buy
The CML figures also show that the number of people falling behind on mortgage repayments had dropped by the end of September.
Some 125,100 mortgages had arrears of more than 2.5% of the outstanding balance.
This compares with 131,400 in the previous quarter and 149,400 in the third quarter of 2013.
New mortgage rules mean that lenders must test applicants' finances to ensure they are able to cope with higher monthly demands, should interest rates rise.
There are more than 11.1 million mortgages outstanding in the UK, worth more than £1.2 trillion.
Threat to tenants
Separate figures from the Ministry of Justice (MoJ) show that the number of homeowners at the first stage of the home repossession process was also falling.
There were 9,731 mortgage possession claims in the third quarter of the year, down from 10,773 during the previous three months. There were 7,149 possession orders - the next stage of the process - in July, August and September, compared with 7,939 in the previous quarter.
However, the figures also show that the number of tenants evicted by county court bailiffs was at the highest of any quarter since 2000, at 11,100 during the third quarter of the year.
Campbell Robb, chief executive of housing charity Shelter, said: "Shelter's advisers can make the difference between a family losing their home and keeping it, but we're struggling to keep up with demand. We urgently need more support to make sure we can be there for every family that needs us."
However, the number of tenants facing an initial threat of eviction fell for the second consecutive quarter, the MoJ figures show.