Warren Buffett's Berkshire Hathaway buys Duracell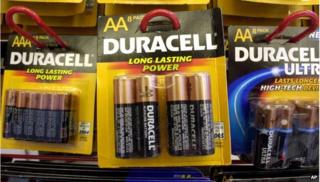 In a surprise move, Warren Buffett's Berkshire Hathaway said it will acquire battery maker Duracell from Procter & Gamble.
Last month, Procter & Gamble had announced plans to spin off the battery business.
Berkshire will acquire Duracell via an unusual move, in which the firm sells the $4.7bn (£3bn) shares it owns in Procter & Gamble back to P&G.
That structure will reduce the overall tax bill Berkshire Hathaway must pay.
Also as part of the deal, Procter & Gamble will first invest $1.7bn in Duracell in order to recapitalise the business.
"I have always been impressed by Duracell, as a consumer and as a long-term investor in [Procter & Gamble] and Gillette," Mr. Buffett said in a statement.
"Duracell is a leading global brand with top quality products, and it will fit well within Berkshire Hathaway."
Procter & Gamble had acquired Duracell when it bought Gillette in 2005 for over $50bn.
However, as the company has sought to focus more on growth, it has started to shed some underperforming aspects of its business.
Duracell leads the battery market with an estimated $2.2bn in sales, but that figure has not been rising rapidly.
Mr Buffett had said over the summer he was looking for "elephants" - or big, brand name firms - to acquire.