Brazilian police arrest 18 in Petrobras corruption raids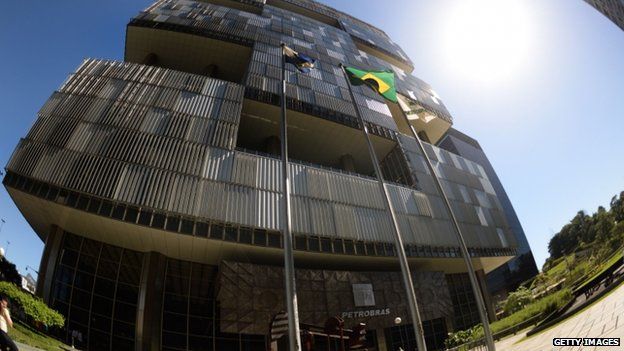 Brazilian police have carried out a series of raids and arrested 18 people as part of a corruption investigation into the state-run oil firm Petrobras.
More than 300 police and 50 tax officials were involved in the operation across five states, as well as in the capital Brasilia.
Police said 11 searches took place in major Brazilian companies, including some leading construction firms.
Petrobras is also being investigated by US authorities.
The company, which is majority-owned by the Brazilian government, is one of the largest oil businesses in the world. Its reach extends far beyond South America; Petrobras has interests in Asia, Africa and the Middle East.
In the past few months, Petrobras has been rocked by corruption allegations made by a former executive Paulo Roberto Costa, who is giving evidence to police as part of a plea bargain arrangement.
Costa, who was arrested in March, has alleged that the refinery division of the company operated a fund that diverted money to political parties - including the ruling Workers' Party.
The resulting probe, codenamed Operation "Car Wash", has led to raids in Parana, Sao Paulo, Rio de Janeiro, Minas Gerais and Pernambuco, as well as Brasilia.
Brazilian police say they have blocked assets worth more than $270m (£172m), belonging to 36 of those targeted in the latest stage of the investigation.
Another former director of Petrobras is reported to be among those detained.
Petrobras had previously announced it was delaying its third quarter results, which were due on Friday, due to the ongoing investigation.
The Brazilian media is reporting that the accountancy firm PriceWaterhouseCoopers has refused to sign off the results.
Analysis: Katy Watson, South America business reporter
As one Brazilian columnist wrote on Friday, Petrobras is going through the worst-ever period in its history.
Shares fell 5% on the news that the company would delay its third-quarter earnings amid the investigation and investors are worried about the implications for Petrobras - it is already the most indebted publicly listed oil company in the world.
But the latest developments are not good news for President Dilma Rousseff either. Ms Rousseff chaired Petrobras from 2003 until she ran for president in 2010. The problems surrounding Petrobras were a big talking point in last month's elections.
Ms Rousseff has acknowledged there was evidence of wrongdoing at the company and has even promised to try to reimburse Brazilians for the public money that was taken.
But how she goes about addressing the scandals will be watched carefully as she begins her second term.