Microsoft leapfrogs Exxon to become second largest firm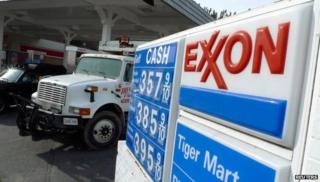 Energy giant Exxon has ceded its position as the world's second-largest public company to tech firm Microsoft, after concerns about the falling price of oil drove its shares down.
Exxon's shares traded at $94.90 midday on Friday, reducing the total value of all its shares, or market capitalisation, to $401.9bn (£256.7bn).
Shares in Microsoft - which have been rising after a strong October earnings report - hit $49.81.
That gives it a value of $410.5bn.
Overall, shares in oil companies have been hit in recent weeks, as oil prices have continued to plummet.
More production from US oil fields has led to an increased supply of oil just as some of the world's largest economies - most notably, China - have begun to slow down.
Microsoft, on the other hand, has benefitted from Wall Street's approval of newly-installed boss, Satya Nadella.
The price of the tech giant's shares are up over 30% over the year - the highest it has been for a decade.
Investors have been pleased with Mr Nadella's emphasis on web-based Cloud services, and his efforts to undo the mistakes of Windows 8.
However, Apple still remains the world's biggest public company, by some distance.
It is currently worth around $667.9bn.