RBS may curtail former chief Stephen Hester's pay-outs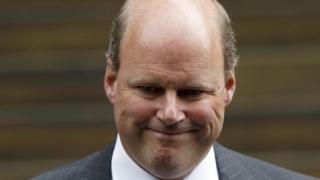 The Royal Bank of Scotland is acting to head off another toxic row over pay - this time involving its former chief executive Stephen Hester.
I am told that Mr Hester's long term incentive plan (the share options that pay out over a number of years, known as LTIPs) is to be part of the "major accountability review" being undertaken by the bank following the £406m foreign exchange manipulation fine RBS received last week.
The news comes after the Mail on Sunday suggested that the payouts to Mr Hester - who left as chief executive of RBS in 2013 - could total £1m this year.
Using the same performance criteria, the payout for next year could be £800,000 worth of shares. If the bank performs better, it could be as high as £1.3m.
To be clear, there is no evidence or suggestion that Mr Hester was aware of any wrongdoing which led to the foreign exchange manipulation fine.
But I understand that his pay outs could be curtailed if RBS decides that as "captain on the bridge" at the time, Mr Hester's wallet should bear some of the pain.
Also, given the level of the fines, the bank's overall performance could be downgraded. If that happens, Mr Hester's LTIPs will automatically pay out less.
I am told to expect an announcement on the initial results of the review for all RBS's senior staff before Christmas. Final announcements on pay will be made next year.
Of course, Mr Hester has waived his annual bonuses in the past, most notably following the IT fiasco of 2012 when millions of customers were effectively locked out of their RBS and Nat West current accounts.
The Financial Conduct Authority's fine for that computer breakdown - expected to be in the tens of millions of pounds - could come as soon as this week.