Wonga still using controversial television adverts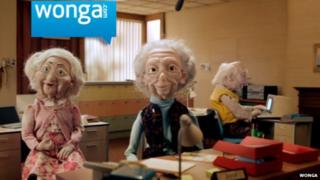 Payday lender Wonga has continued to show TV adverts in Poland and Spain despite cancelling similar ads in the UK because they appealed to children.
In July, Wonga cancelled its British TV ad campaign, saying it did not want to be associated with "anything which inadvertently attracts children".
But Wonga Espana only stopped the TV ads last month and in Poland four versions are still being shown.
Wonga now says it will end all such marketing by the end of the year.
Cuddly characters
The adverts were criticised for prompting children to pester their parents to borrow more.
The adverts in Poland featured cuddly, elderly characters similar to the Wongies used in the UK campaign.
Some feared that young people would be so influenced by the marketing that they would be at greater risk of becoming addicted to debt as adults.
Last week, Wonga chairman, Andy Haste, went even further to limit Wonga's UK promotions, by agreeing with Newcastle United to remove the Wonga logo from children's training kit and replica shirts.
The company's statement said the decision followed the chairman's commitment "to review all the company's marketing to ensure that none of it could inadvertently appeal to the very young or vulnerable".
And it went on: "Wonga has already ended its puppets advertising campaign."
In Spain, the adverts are still being promoted via the local Wonga website.
And both countries have dedicated You Tube pages where followers of the Wongies can view a whole series of adverts.
"[The] review resulted in the immediate removal of the puppet characters from TV screens in the UK, where Wonga is not currently on air. This work is largely complete with the only remaining instance of their use in Polish television adverts, which will be removed by the end of this month," said a spokeswoman for Wonga.
The Wongies will be removed worldwide from all marketing channels, including YouTube, by the end of the year.