Premier League TV rights to be probed by Ofcom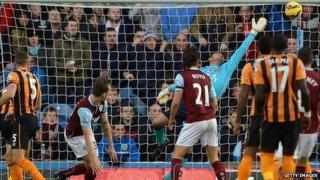 Broadcasting watchdog Ofcom has opened an investigation into how the Premier League sells live TV media rights for its football matches in the UK.
It follows a complaint from Virgin Media, which said more matches should be available for live broadcast.
In a statement, the Premier League said that the way it sold its audio-visual rights was "compatible with UK and EU competition law".
BSkyB and BT share the rights to televise Premier League football games.
The price for the latest rights deal - covering 2013-16 - rose by 70% to £3bn when it was announced in 2012.
'Welcome news'
The Premier League will soon be starting the bidding process for the next tranche of rights from 2016 onwards.
Virgin claims that the current arrangements "for the 'collective' selling of live UK television rights by the Premier League for matches played by its member clubs is in breach of competition law".
In particular, it has raised concerns about the number of Premier League matches for which live broadcasting rights are made available.
Ofcom said: "Virgin Media argues that the proportion of matches made available for live television broadcast under the current Premier League rights deals - at 41% - is lower than some other leading European leagues, where more matches are available for live television broadcast."
Virgin argues that this "contributes to higher prices for consumers of pay TV packages that include premium sport channels and for the pay TV retailers of premium sports channels".
Tom Mockridge, Virgin Media's chief executive, called Ofcom's investigation "welcome news".
"The fact remains that fans in the UK pay the highest prices in Europe to watch the least amount of football on TV. Now is the right time to look again at the way live rights are sold to make football even more accessible," he said.
"We look forward to working constructively with the Premier League, the wider industry and Ofcom to ensure a better deal for football fans."
In a statement, the Premier League said: "We note that Ofcom has launched an inquiry. Ofcom has stated that this is at an early stage and it has not reached a view as to whether there is sufficient evidence of any infringement.
"The Premier League currently sells its audio-visual rights in a way that is compatible with UK and EU competition law and will continue to do so."
Kick-off times
Ofcom said the investigation would be carried out under the terms of the Competition Act.
It added it was "mindful of the likely timing of the next auction of live UK audio-visual media rights, and is open to discussion with the Premier League about its plans".
Ofcom also said it would look at the issue of how many games are moved from their traditional 3pm kick-off times on Saturdays, because of TV scheduling needs.
As part of this, it will approach the Football Supporters' Federation and certain other supporters' groups to understand their views.
Malcolm Clarke, chair of the Football Supporters' Federation, said: "Premier League football might be a global phenomenon but without fans in the stands, it wouldn't have the same appeal.
"People want to see the world's best players, but they also want to see stands packed to the rafters with fans. That vibrancy is a key part of the TV 'product'.
"Ofcom also acknowledges the importance of Saturday 3pm kick-offs to fans. All-too-often TV's needs come before match-going supporters as games are shunted around the calendar."