UK inflation rate rises to 1.3% in October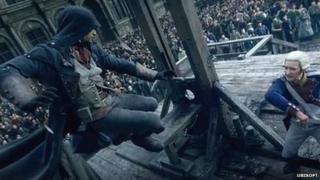 UK inflation rose to an annual rate of 1.3% in October, up from 1.2% in the previous month, official figures show.
The slight increase moves the rate, as measured by the Consumer Prices Index (CPI), above its recent five-year low.
The Office for National Statistics (ONS), said the marginal rise was because transport costs fell by less than they did a year ago.
In addition, prices in the recreation and culture sectors rose, particularly for computer games and toys.
However, the price of food and non-alcoholic beverages fell by 1.4% in October, when compared with last year, marking the sixth consecutive month without a rise - the longest such period since 2000.
Furniture and household equipment prices also fell, by 1.1%, most notably three-piece suites and settees.
In a separate development on Tuesday, retail analysts Kantar Worldpanel said UK grocery sales had fallen for the first time in twenty years.
It said price competition had pushed down grocery prices by 0.4%.
The ONS also reported that the Retail Prices Index grew by 2.3% in the year to the end of October, the same rate as recorded for September.
Seasonal factors
Last week, the Bank of England warned the inflation rate could dip to as low as 1% in the coming six months.
However, the small rise in the rate of inflation is unlikely to alter the central bank's decision to keep its key interest rate at 0.5% for the time being.
The Bank targets an inflation rate of 2%.
The BBC's economics editor, Robert Peston, said the small rise seemed largely due to seasonal factors, such as the timing of student fee increases and sales of Christmas games, and that the overall trend for the CPI was probably still downwards.
Reacting to the ONS report, David Kern, chief economist at the British Chambers of Commerce said that despite the small increase, "the impact of low oil prices will have a noticeable impact in coming months, causing inflation to drop".
"We expect inflation to fluctuate around 1% until late 2015, before rising towards 2.0% in 2016," he added.