US regulators extend Takata airbag recall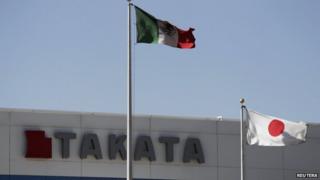 US safety authorities are demanding that a recall of airbags which can explode with dangerous force be expanded to the whole country.
The recall of certain airbags made by Japan's Takata had been limited to cars registered in humid states.
But the National Highway Traffic Safety Administration (NHTSA) says the recall should be extended following an accident outside those humid areas.
Previously the safety agency said that 7.8 million cars could be affected.
"We now know that millions of vehicles must be recalled to address defective Takata air bags and our aggressive investigation is far from over,'' NHTSA deputy administrator David Friedman said in a statement.
Senate hearing
Mr Friedman, a senior executive from Takata and others will appear before a Senate Committee on Thursday to answer questions about the recall.
The NHTSA says it will use legal powers to force a recall if the firms do not respond quickly to its demand.
The problem affects driver's side airbags that can explode with too much force and propel shrapnel into the car.
Details of cars affected can be found on the NHTSA website.