Gatwick's busiest 6 months boost second runway plans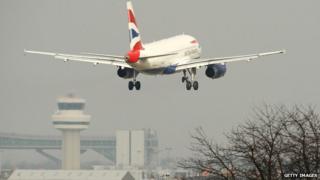 Gatwick's busiest ever six months have boosted business and, it says, its chances of getting London's new runway.
The airport said one day last August saw 906 air traffic movements - a world record for a single-runway airport.
The Airports Commission has launched a public consultation on plans for new runways for London.
Stewart Wingate, CEO of London Gatwick, said: "Gatwick offers the compelling, credible option of a new runway that can actually be built,"
He called the alternatives proposed at Heathrow "undeliverable".
Record
Turnover at Gatwick grew by 8.6% to £391.6 million in the six months to the end of September while new European business routes have been added including Strasbourg, Brussels and Paris.
However, last month the chief executive of British Airways parent company IAG said he would not back an additional runway at Gatwick "because I don't think there's a business case for it." He does not support the case for another runway at Heathrow either.
A new low cost service by the airline Norwegian to the US helped fuel a 4.8% increase on North American routes.
Gatwick announced its plans for the location of a new runway in July.
Mr Wingate said: "Time is not on our side. Gatwick's success and continued rate of growth means we are now unable to meet demand across much of the year and are just a few years away from hitting full capacity, ahead of earlier forecasts."