Sony Pictures drops Steve Jobs film reports say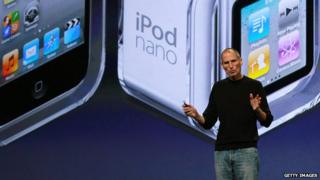 Sony Pictures has dropped a movie based on the life of Apple co-founder Steve Jobs, according to reports.
Following the death of Steve Jobs in 2011, Sony bought the rights to produce a film based on a biography of Mr Jobs written by Walter Isaacson.
Since then Leonardo DiCaprio, Christian Bale and most recently Michael Fassbender have been associated with the lead role.
But reports say Sony has struggled to fit the film into its schedule.
Danny Boyle, who was lined up to direct the movie, has other projects to start work on next year, according to the Hollywood Reporter.
Its report also said that Mr Fassbender had a scheduling clash, as he is due to start work on the next in the X-Men series of films, next spring.
It is thought that Universal Pictures is keen to take over the project.
Hollywood has long been interested in the story of Mr Jobs who was a charismatic figure and a master at presenting Apple's latest products, usually wearing a turtleneck sweater, blue Levi jeans, and trainers.
His career took dramatic turns. After founding Apple with Steve Wozniak in the late 1970s, he was driven out of the firm in a boardroom coup in the 1980s.
A decade later he was bought back when Apple ran into trouble and presided over an era when it became the most valuable US company and producer of the highly successful iPhone.