Commerzbank to charge fees to biggest depositors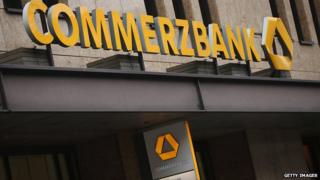 Germany's Commerzbank is to charge big corporate clients fees if they hold "substantial" deposits at the bank.
Commerzbank is the first major bank to make such a move and says it will encourage big clients to move cash into alternative investments.
Private savers and small and medium sized businesses will not be affected by the policy.
In June the European Central Bank (ECB) said that banks would have to pay to park money at the central bank.
That negative interest rate was an effort to spur banks and other financial institutions to lend money rather than leave it on deposit.
In September it made holding money at the ECB even less attractive by cutting the rate on overnight deposits to minus 0.2%.
Commerzbank says that policy from the ECB has driven its decision to charge fees to some of its own clients.
"In the case of certain large corporate clients with substantial deposits as well as corporations or institutional investors we reserve the right, in individual cases, to charge a fee for large deposits of surplus liquidity parked with us," the bank said in a statement.