Public borrowing at £7.7bn in October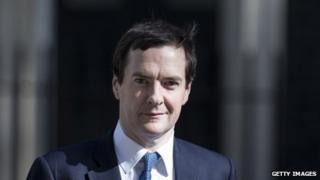 Government borrowing fell to £7.7bn in October, official figures show, down £0.2bn from a year earlier.
Between April and October, government borrowing was £64.1bn, an increase of £3.7bn from the same period last year.
While unemployment has fallen, income tax receipts have also fallen, the Office for National Statistics said.
Slow wage growth and large numbers of people earning less than the threshold for income tax may have affected receipts.
'Hugely challenged'
At the time of the Budget in March, the Office for Budget Responsibility (OBR) predicted that net borrowing would fall by more than 10% in the coming year. However, borrowing for the financial year to date is 6.1% above the same period last year.
Total public sector net debt in October was £1,449.2bn, or 79.5% of GDP, the ONS said.
The borrowing figures are the last before the chancellor delivers his Autumn Statement on 3 December.
While October's figure was slightly better than analysts' expectations of £7.9bn, Howard Archer, economist at IHS Global Insight, said it gave Mr Osborne a "limited boost".
"Despite October's improvement, the chancellor still looks hugely challenged to meet his fiscal targets for 2014-15," Mr Archer said.
"So while he will be able to trumpet the UK's ongoing healthy economic performance, particularly compared to Europe, he will almost certainly have to acknowledge that he is going to clearly under-shoot his fiscal targets for 2014-15."
October's data showed receipts from income tax were £81.5bn, down £0.3bn on the same month last year, despite economic growth running at around 3% and a surge in employment.
Last month, the OBR warned that income tax receipts were likely to fall short of the government's target for this financial year despite record employment.
The UK budgetary watchdog said this was because many new jobs were low paid or created through low-paid self-employment.
Following the data release on Friday, the OBR reaffirmed that it expected income tax receipts to pick up at the end of the financial year.
However, it said growth in central government receipts so far this year had been much weaker than forecast at the time of the Budget.
"Factors such as weaker-than-expected wage growth, lower-than-expected residential property transactions and lower oil and gas revenues make it unlikely that the full-year receipts growth forecast from March will be met," it said.
Global problems
A Treasury spokesman said: "While today's public finance figures show borrowing is down this month compared to last year, the impact of the great recession is still being felt in our economy and the public finances.
"At the same time, we have to recognise that the UK is not immune to the problems being experienced in Europe and other parts of the world economy.
Chris Leslie MP, shadow chief secretary to the Treasury, said the ONS figures were a "damaging setback for George Osborne".
"As the OBR has said, stagnating wages and too many people in low-paid jobs are leading to more borrowing," he added.