Amazon to deliver to customers via local post offices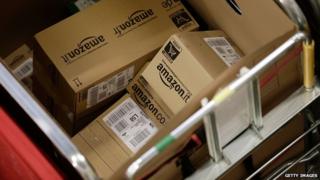 Internet retailing giant Amazon and Royal Mail have joined forces to have customers' items delivered to post offices for collection.
Earlier this month Royal Mail warned that rivals, including Amazon, were hitting its parcel delivery business.
It said that Amazon's own delivery service could dent its business by as much as 2% in the short term.
Now, Amazon customers will be able to have their parcels delivered by Royal Mail to 10,500 post office branches.
"Clearly the reasoning behind this must be Royal Mail trying to save some of its business," said city analyst Nicla Di Palma, of Brewin Dolphin.
Royal Mail's parcel operations have suffered from intense competition since the group was privatised last year.
Opening Hours
The addition of the Royal Mail Local Collect "click and collect" facility means Amazon will have 16,000 pickup locations in the UK.
Existing locations include "Pass my Parcel" newsagent and convenience stores, Collect+ stores and Amazon lockers at train stations.
Customers can select their preferred pickup location during the checkout process on Amazon's website, and present identification at the post office branch to receive their parcel.
"This is a good thing," said Lindsay Mackie, an expert on Royal Mail from the New Weather Institute.
"Royal Mail needs to open up to be convenient for customers," she said.
But many main post offices are closed on Saturday afternoons, which could make pick-up less convenient than in a corner shop.
"The problem with post offices is the opening hours," said Ms Di Palma.
However, some post offices contained within other shops are open for up to 12 hours a day, with 2000 now opening on Sundays.
A Post Office spokesperson said that 5000 branches will also offer extended opening hours, to help "click and collect" customers.