UK services sector sees fall in optimism, CBI survey says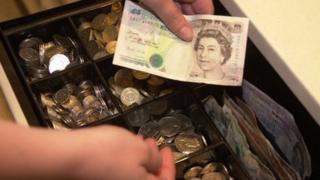 Optimism among companies in the UK services sector is at its lowest for 21 months, according to a CBI report.
The employers' group's latest survey of sector said firms expected to see steady growth over the next three months. Employment and investment were forecast to rise.
But tensions in Middle East, eurozone growth worries, and skill shortages had hit optimism about the future.
The services sector represents more than three-quarters of UK output.
The CBI said that for the three months to November, business and professional services firms - such as marketing and accountancy companies - reported that volumes of growth were firm, but below expectations.
In consumer services - including hotels, restaurants, and leisure businesses - growth ticked up and staff recruitment also rose.
However, both business services and consumer services reported that optimism was at its lowest since February 2013.
Only three of the nine sub-sectors within the services industry anticipated growth over the next quarter.
CBI director for economics Rain Newton-Smith said: "Growth across the services sector is expected to continue into the New Year.
"And it's good to see investment spending on IT at near record levels. But skills shortages are starting to bite, putting more of a break on investment and future growth in consumer services."
Official data this month showed the UK economy expanded by 0.7% between July and September, following growth of 0.9% in the previous quarter.