The housing market is cooling - Nationwide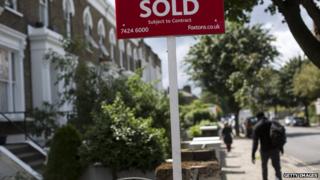 I have just got off the phone to Graham Beale, the chief executive of Nationwide, about his results this morning that show gross and net mortgage lending down.
He explained the two trends which are influencing the housing market.
And they are both pulling in different directions.
Firstly, the major high street banks are back lending to householders after years of withdrawing from the market and repairing their balance sheets.
Mr Beale pointed out that net mortgage lending by the banking sector in the two-and-a-half years to June 2014 was actually negative at minus £1bn.
In the same period, lending by mutuals (financial institutions owned by their members, also called building societies) was £33bn, of which £19bn was provided by Nationwide itself.
"They are now back in the game," Mr Beale said of the high street banks.
That means that more mortgage products are available, leading to better offers for buyers as greater competition kicks in.
'Balance'
This trend towards greater competition is more than offset by a stronger, opposite trend, which is towards a generally softening housing market.
"The market is cooler, there is a general slowing down," Mr Beale told me. "We are moving towards a more balanced situation, there was a lot of commentary about overheating in London and the south-east. Things are now more cautious."
Data from the Bank of England show that mortgage approvals are down 9% year-on-year and down 20% in the first two months of this year, the Nationwide chief said.
House price inflation is also slowing.
Fears of an interest rate rise, the looming general election, the possibility of greater economic gloom ahead, tougher rules for mortgage lending and a broad belief that the housing market is over-priced have all reinforced this cooling trend.
'Lend into retirement'
On the knotty issue of mortgages for over-40s, Mr Beale said some lenders were in danger of over-interpreting the new Mortgage Market Review (MMR) rules brought in by the Financial Conduct Authority to tighten lending criteria.
That has led to some banks refusing to lend to people who will have retired by the time their mortgage reaches full term.
You can read about the problems that is causing here.
Mr Beale said that Nationwide was perfectly happy lending to people up to the age of 75 as long as there was clear evidence that the mortgage could be repaid.
"We will lend into retirement," Mr Beale said. "Maybe one or two lenders have interpreted MMR a little too severely. It may need to be refined."
Anyone over the age of 40 looking to buy will heave a sigh of relief at that.