Botin ousts Santander chief executive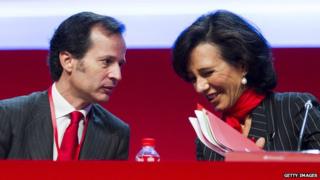 Ana Botin has moved swiftly to reshape Santander, ousting its chief executive after less than two years in the role.
She took over as executive chairman of Europe's biggest bank in September following the death of her father Emilio Botin.
Javier Marin has been replaced by Jose Antonio Alvarez, who had been chief financial officer for a decade.
Santander named Jose Garcia Cantera as the new CFO and also appointed three new directors to its board.
Ms Botin had been head of Santander UK since 2010 and chaired the bank's Spanish-based subsidiary Banesto for eight years before that. She began her banking career at JPMorgan.
Mr García Cantera had been a highly rated banking analyst at Citi before becoming chief executive of Banesto, which was integrated with Santander Spain last year.
Chris Wheeler, a banking analyst, said that the decision was a major move, but not that big a surprise given that Ms Botin wanted to make her mark on the business and retain overall control in her capacity as executive chairman.
He said there may have been a clash of views about the direction that the bank should take.
"This is a sign of Ana Botin putting her stamp on the business and showing what she wants to do," said one Madrid-based analyst.
Ms Botin said that Mr Marin had "led the commercial transformation of our bank, bringing innovative management to lead our customer segmentation and service improvement initiatives, while also improving our profitability and efficiency".
Boardroom shake-up
Santander also appointed three new independent members to its board. Bruce Carnegie-Brown, who had been a member of Santander UK's board, will fill the new role of lead independent director. Mexican businessman Carlos Fernandez and Sol Daurella, head of the Coca-Cola bottling business in Spain, are the other two new directors.
Nine of the now 15-strong board will be independent in a bid to address concerns that Ms Botin's father exercised too much boardroom control in his 28-year tenure. Five of the directors are women.
Shares in Santander rose 1.9% to 7.22 euros in Madrid following the announcement, valuing the bank at 90bn euros.
The company is under pressure to improve its financial strength after admitting that it would end the year in a weaker position than its rivals under the latest European measures.
Earlier this month Santander said that net profits rose by more than half to 1.61bn euros for the three months to September 30, with costs cut by a higher than expected 1bn euros.
Profits from the UK operations for the nine months to September jumped 43% to almost 1.2bn euros, making it the most lucrative division.