HP earnings fail to impress investors ahead of split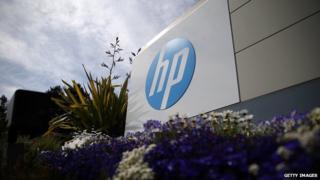 Technology giant Hewlett-Packard's fourth quarter earnings failed to impress investors ahead of its big business split next year.
Its revenue fell 2.5% to $28.4bn (£18bn) from a year ago, better than a market consensus of a $28.76bn decline.
But that did little to boost confidence in the struggling PC maker, with HP shares down nearly 1% in after-hours trading.
Profit also fell 5.7% to $1.3bn in the three months to October year-on-year.
HP's quarterly revenue fell in almost every business segment.
Divisions such as enterprise group and enterprise services saw revenue falls of 4% and 7% respectively.
Changes ahead
The earnings report was the first since HP announced last month that it would split its business into two separate companies.
The US firm intends to separate its better-performing computer and printer business from its corporate hardware and services operations by the end of the 2015 financial year.
"There's still a lot left to do, but our efforts to date, combined with the separation we announced in October, sets the stage for accelerated progress in the 2015 financial year and beyond," said chief executive Meg Whitman in a statement.
Revenues in the company's largest segment - its PC division - grew by 4% during the quarter, after a 12% rise in the previous three months.
HP has been facing stiff competition from rivals such as China's Lenovo, which overtook it as the world's largest PC maker in 2012.