Candy Crush maker King Digital chairman resigns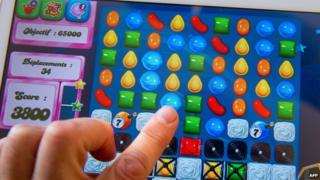 The chairman of King Digital the maker of the popular mobile game Candy Crush, Melvyn Morris, has resigned and is taking a break from the UK firm.
Melvyn Morris said he was going for "personal reasons".
Mr Morris, who is King Digital's second-largest shareholder, will be replaced as chairman by board member Gerhard Florin.
The firm's latest results showed profits down by 20% in the third quarter compared with last year.
"We look forward to his [Mr Morris] rejoining the board in due course and we look forward to working with Gerhard in his new role," said chief executive Riccardo Zacconi in a statement on Wednesday, without specifying when Mr Morris would rejoin the board.
Mr Gerhard has more than 20 years of experience in the industry with executive roles at King Digital's competitor, Electronic Arts (EA), and music label BMG, the company said.
Facing competition
The game maker best known for its Candy Crush Saga mobile game, has been struggling to increase its market share in the highly competitive mobile game industry.
Income from its Candy Crush Saga continued to fall in its latest earnings report earlier this month.
It reported revenue of $514.4m (£325m) for the third quarter, down from $621.2m a year ago.
The company went public in March with a listing in New York.
Its shares have fallen nearly 17% this year.