How an economy fares after a coup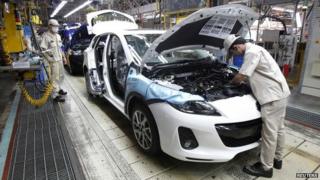 Six months ago, Thailand experienced its 12th coup d'etat since the end of absolute monarchy in 1932. There were also seven unsuccessful attempts during that time.
Last week, the country's justice minister said martial law would remain in place "indefinitely". Meanwhile Finance Minister Sommai Phasee has told the BBC that democratic elections could be delayed until 2016.
Yet, the stock market hasn't plummeted and foreign investors are largely staying put. And, looking over the past 40 years, Thailand has been one of the faster growing emerging economies with a manufacturing capacity that has led it to be dubbed the "Detroit of Asia".
But, now, the economy is struggling. The latest GDP figures have eked out small increases, leading the government's economic forecasting agency to predict growth of just 1% this year.
Worryingly, since the coup, tourist numbers have fallen by 20% as travel warnings issued by governments have deterred some visitors. Even more worryingly, demand for cars - a key discretionary good that consumers buy when they feel confident about the future - has dropped by even more, according to the head of Ford in Thailand. But, he and other businesses that I spoke to expect the economy to bounce back and for consumer demand to pick up.
When I asked both domestic and foreign businesses if a sustained recovery was possible if elections don't take place next year, the almost uniform answer was it was political stability that mattered.
For those peering in, it's an unusual state of affairs. When a military junta overthrows a democratically elected government, usually investors and businesses stay away. Yet, in Thailand, I heard that the frequency of coups and continued economic growth have led businesses to be sanguine. The big caveat, though, was that violence and civil conflict change the picture.
When a cinema cancels the premiere for a Hollywood movie, The Hunger Games: Mockingjay, because protesters have adopted the salute used in the fictional state of PanAm, it reveals a certain fragility and suggests that the situation could change fairly rapidly and unpredictably. After all, there has been violence and clashes during coups, so they are clearly not just another transition of government.
Plus, Thailand's place in leading the talks on forming a free trade area of the 10 economies of southeast Asia, known as Asean (Association of Southeast Asian Nations), is also at stake. The Asean Economic Community, or AEC, if formed by next year as intended, would create a free trade zone that has 600 million people, which is larger than the European Union's single market.
It's an ambitious and potentially game-changing project for the region. If successful, it becomes even more important for Thailand to maintain its prized position as a hub for manufacturing cars, among other things. But, if the AEC is established, then foreign businesses can more readily choose to locate say in Indonesia, which is trying to rival Thailand in car production already, as other nations could begin to look more attractive as places to manufacture and sell into other parts of the AEC.
Needless to say, losing its place as a manufacturing hub would have a lasting impact on Thailand's economy. Its growth has been driven by industrialisation and its ability to move up the value chain, which has earned it a valuable place in the region's supply and production chains.
Of course, the ambitions of the AEC are likely to take years to fully realise and Thailand has deeper roots as a manufacturing destination than most of its neighbours, some of whom are still pushing to effectively upgrade their production capabilities.
But, as countries that have experienced a hollowing out of manufacturing know all too well, maintaining a dominant position can be short-lived. For Thailand, the stakes are even higher as the rest of the region upgrades and integrates. It risks being left behind if it doesn't restore political stability and democracy soon.
For more, watch Talking Business with Linda Yueh, part of the Thailand Special on BBC World News: bbc.co.uk/talkingbusiness.