Supermarket chickens: 70% affected by food bug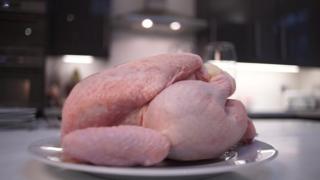 More than 70% of fresh chickens being sold in the UK are contaminated with the Campylobacter bug, the Food Standards Agency (FSA) has revealed.
The figure is higher than in previous tests, which suggested a 59% contamination rate.
The highest rate was found in chickens being sold by Asda. Tesco was found to have relatively low rates of contamination.
Asda said it was disappointed, but was working hard to find a solution.
It is the first time that individual retailers have been named by the FSA, in an attempt to improve standards.
The agency said the results showed that there was still "a long way to go" before consumers are protected from the bug.
However, it reassured consumers by saying that Campylobacter is easily killed by thorough cooking.
Campylobacter is the biggest cause of food poisoning in the UK, responsible for 280,000 cases a year, and around 100 deaths.
Poultry is responsible in the majority of these cases.
Low risk
In its latest study, the FSA tested just under 2,000 fresh chickens.
When measured at the highest levels of contamination, it found that Asda was the worst offender, with 28% of its chickens having a concentration of more than 1,000 colony-forming units per gram.
Marks and Spencer was the next worst, with 22% of its birds contaminated.
Tesco, with an 11% contamination rate, was the only one of the major retailers with a better record than the industry average.
"These results show that the food industry, especially retailers, need to do more to reduce the amount of Campylobacter on fresh chickens," said Steve Wearne, the director of policy at the FSA.
"If chicken is cooked thoroughly and preparation guidelines are properly followed, the risk to the public is extremely low," Mr Wearne added.
Other advice from the FSA includes:
Covering raw chicken and storing it at the bottom of the fridge, so juices cannot drip on to other food
Not washing raw chicken, which can spread germs through splashing
Washing utensils and surfaces used to prepare raw chicken
Some experts believe roasting chicken inside a bag is also useful, as it eliminates skin contact.
Supermarket chickens: rates of contamination
Retailer
% samples with Campylobacter
% samples with high-level Campylobacter
Asda
78%
28%
Co-op
73%
19%
M&S
67%
22%
Morrison's
69%
21%
Sainsbury's
69%
14%
Tesco
64%
11%
Waitrose
69%
16%
Others
76%
25%
Source: FSA
New technology
Asda said it welcomed the transparency of the FSA's findings, but said it was already working on new technical solutions to reduce contamination.
"We take campylobacter seriously and it goes without saying that we're disappointed with these findings," said an Asda spokesperson.
"There is no 'silver bullet' to tackle this issue, but along with other retailers, we're working hard to find a solution," he added.
Among the new solutions being worked on is SonoSteam, being trialled by Asda across its poultry suppliers.
The technology uses steam to kill bacteria on the surface of the chicken during processing.
Marks and Spencer has developed a five-point plan of interventions along the food chain to tackle the issue.
The British Poultry Council said there was little statistical difference between the retailers, which have "levels in the same range".
Professor Chris Elliott, director of the Institute for Global Food Security, who led a government inquiry into food safety, said he was satisfied that enough was now being done to tackle the issue.
"I'm not aware of any region in the world working harder to find solutions to this problem but in my opinion, having looked at all the evidence, there is no quick fix," he said.
Further tests will now be carried out by the FSA, particularly on chickens sold by smaller retailers and butchers.