German unemployment rate falls to a record low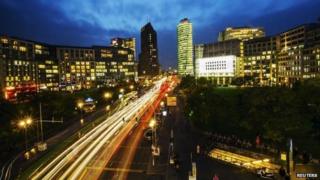 Germany's unemployment rate has hit a record low, but slower inflation has raised concerns over deflation.
The Federal Statistical Office revised October's unemployment number from 6.7% to 6.6%, November's figure was also 6.6%. Both figures were adjusted for seasonal variation.
Meanwhile inflation fell to its lowest rate in nearly five years in November.
Official figures showed inflation dropped to 0.5% in November from 0.7% in October.
Strong labour market
The fall in the number of unemployed was larger than analysts' expectations, down 14,000 to 2.872 million, the Federal Labour Office said.
The figures are in marked contrast to many other economies in the eurozone.
Economists have warned of a potential economic "stagnation trap" in the euro area.
However, analysts said that record employment, rising wages and low interest rates are helping to prop up domestic demand in Germany.
"Germany's buoyant labour market continues to underpin wage growth and thus private consumption, in combination with very low inflation," said Christian Schultz, economist at Berenberg.
Deflation risk
Inflation remains weak in the eurozone and economists say the rate in Germany could fall further.
"Looking ahead, the recent drop in energy prices - if sustained and if not offset by strong currency weakening - could push German headline inflation further down," ING Bank analyst Carsten Brzeski said.
Low German inflation may put pressure on the European Central Bank (ECB) to further stimulate the eurozone economy, Jennifer McKeown of Capital Economics said.
"With inflation set to remain far below target in the eurozone's largest and arguably strongest economy, the ECB will remain under intense pressure to provide more policy support."
The ECB has started buying covered bonds and asset-backed securities to try to revive the eurozone economy and keep deflation at bay.