Black Friday: Amazon UK has 'busiest day on record'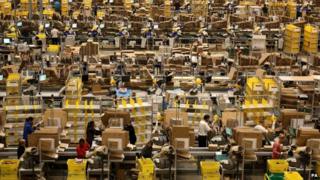 Black Friday was the busiest day on record for online retailer Amazon UK, with sales that "surpassed all expectations", the company has said.
Its website recorded orders for more than 5.5 million goods, with about 64 items sold per second.
Amazon said the public's appetite for Black Friday was "bigger than ever".
However, the day was not without controversy as police were called to deal with scuffles at a number of retailers' stores across the UK.
And some online retailers reported problems with customers accessing their websites because of sheer demand.
Last year's Black Friday was also a record day for Amazon, when it sold more than 4 million items.
Shopping 'fixture'
Xavier Garambois, who is vice-president of EU retail at Amazon, said: "Ever since we introduced Black Friday to the UK in 2010, sales have increased year-on-year but this year really has surpassed all of our expectations.
"The public's appetite for Black Friday has been bigger than ever, kicking off the Christmas shopping period in earnest and establishing Black Friday as a fixture on the UK Christmas shopping calendar."
While last year's Black Friday was also a record for Amazon UK, that was surpassed on Cyber Monday 2013, when more than 4.1 million items were ordered at a rate of some 47 purchases per second.
Many retailers traded from midnight on Thursday night to maximise shopping times and put deals online overnight.
But websites including John Lewis, Argos and Tesco Direct struggled to handle the increased traffic, and Currys customers waited up to an hour in a virtual queue.
During the day police were called to a number of disturbances at supermarkets in Dundee, Pollok near Glasgow, London and Manchester as shoppers fought over goods.
There were reports of people punching and kicking each other to get to the bargains on offer.
---
Analysis
Joe Lynam, BBC News business correspondent
So why did so many people go mad on Friday? Well, there's no doubting the bargains - 20%-40% off big ticket items such as tablet computers and large screen TVs would tempt any consumer.
Also, millions of shoppers received their pay on what was the last working day of the month.
Added to that, consumers feel wealthier. They feel more secure in their jobs than in recent years, their fuel bills are falling and their weekly shop gets cheaper every time as UK supermarkets slash prices to compete with Lidl and Aldi.
All in all, this is set to be one of the busiest Christmas shopping periods since the "Great Recession".
That will play well for the chancellor because VAT accounts for a fifth of all government receipts, but the Bank of England has warned a few times that people are borrowing more than the pace at which their wages are rising and that is unsustainable and dangerous.
A debt-fuelled recovery could be the makings of the next recession.
---
John Lewis, which offered website deals from midnight on Thursday night, said that until 6am, traffic to johnlewis.com was up 307% compared with Black Friday last year.
John Lewis said its fastest selling product was the Apple iPad mini, while Nutribullet food processors were selling at a rate of one every 30 seconds.
But at the start of the day about 7% of its customers were unable to access the site first time due to the level of demand.
Website queues
Currys PC World said it had seen its "biggest ever start" to Black Friday, with web traffic increasing fivefold from last year.
"Overnight we saw astonishing demand online and implemented a pre-planned queuing system to most fairly support shoppers," said e-commerce director Jeremy Fennell.
At midday, the queue to access Currys' website was more than half an hour long.
Overnight, Tesco Direct also experienced high demand, and was temporarily unavailable.
As well as online, there was strong demand from shoppers in stores.
Asda said it sold more than 8,000 televisions in the first hour of trading, after its shops opened at 8am.
It had sold more than 1,000 BMX bikes by 9am, and had sold out of Microsoft XBox 360 250GB games consoles with Halo and Forza by the same time.
But despite the high volume of sales, some analysts cast doubt on the value of Black Friday promotions to retailers.
"All Black Friday is likely to do is bring forward business from December, reduce gross margins and undermine consumer's willingness to pay full-price again before Christmas," said retail analyst Nick Bubb.