Blood for sale: India's illegal 'red market'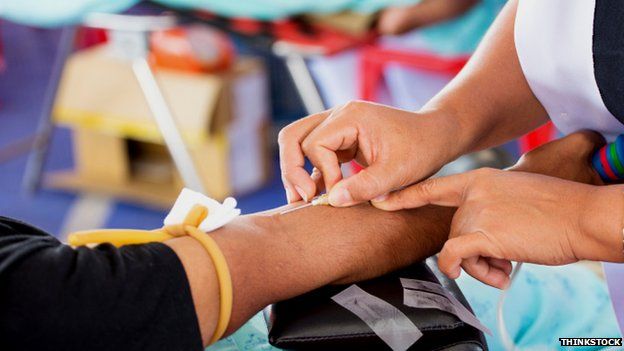 In a crowded alleyway sandwiched between the wards of a large government hospital in New Delhi, we're searching for a blood tout.
One of the hospital's security guards has instructed us to look for a man with one leg.
We find the tout, Rajesh, sitting on a tattered blanket next to a tea stall drinking milky tea from a flimsy plastic cup as monkeys traverse electrical lines overhead.
Posing as the relatives of an accident victim, we tell him we need three units of blood.
"Three thousand rupees ($48; £30) per donor," Rajesh says. "I'll arrange everything."
Selling blood and paying donors in India is illegal, but across the country, a vast "red market" proliferates.
Blood is in chronic short supply in India, according to the World Health Organization (WHO), which stipulates that every country needs at least a 1% reserve.
India, with its population of 1.2 billion people, needs 12 million units of blood annually but collects only 9 million - a 25% deficit.
In summer, the shortfall often hits 50%, leading to a spurt in professional donors cashing in on the needs of desperate patients.
Rajesh used to be a housepainter, but after losing his leg in an accident and spending months recovering at this hospital, he realised he could earn commissions by supplying donors to those in need of blood transfusions in exchange for cash.
India's lack of a central blood collection agency, along with taboos against exchanging blood with people of different castes, largely accounts for the shortage, experts say.
Little has changed since then. Demand still outstrips supply. Private blood banks are legal as long as they obtain a government licence for $120 (£80).
The illicit market in blood has simply moved underground, or in some cases, into the realms of the macabre.
In 2008, Hari Kamat, an impoverished artisan from the state of Bihar, was rescued along with 16 other people from a "blood farm" in the town of Gorakhpur, close to India's border with Nepal.
The victims, all poor migrants, were lured to a house on the pretext of being given jobs and were then convinced to sell their blood for the princely sum of $7 per unit.
"But when I met Hari Kamat in the hospital recuperating, he said that after a while, they became too weak to resist and when they had the energy to try and escape, they were beaten and locked up."
Hari and the others were forced to give blood three times per week for a period of two and a half years. The Red Cross says donors should give blood only once every eight to 12 weeks.
They were never paid the amount they were promised, and received only a token sum.
"It was actually like a dairy," says Ms Dixit. "These people were caged, not given enough food and their blood was extracted 16 times a month."
Ms Dixit says the blood was then sold to local hospitals and blood banks for $18 a unit - 15 times the government rate. Some private blood banks were accused of being complicit, putting official stamps and barcodes on these bags of blood.
There are no official statistics on how large India's illegal blood market is or how many such farms have been uncovered.
But if we were to take as a rough calculation the three million units needed in India, multiplied by its street value of $15, that suggests that it could be worth as much as $45m (£30m).
"You can see by the number of pricks on the arm that they're a professional donor, but the blood banks don't bother, they look the other way," says Sudarshan Agarwal, president of the non-profit Rotary Blood Bank in New Delhi.
The 1996 judgement led India to implement a system of "replacement donors". Patients needing blood from a hospital would first have to provide donors from amongst family or friends - a separate donor for each unit of blood required.
The idea was to promote altruistic donation. But patients continue to turn to touts, especially if they need multiple units of blood and cannot arrange multiple donors.
"Some patients travel from faraway places. They have no family or friends nearby," says Asha Bazaz, chief technical officer for the Rotary Blood Bank.
"Even if you live here, you have to take time off work, travel across town and the experience in many blood banks is not good."
In rural areas, the situation is far more grim.
"I've seen patients being transfused directly from a donor, without any testing of their blood," says Dr JS Arora, general secretary of the National Thalassemia Welfare Society.
In these areas, unregulated blood banks flourish or patients buy packs of blood directly from touts operating near hospitals. Rarer blood types fetch higher prices.
The resulting situation is life-threatening for millions of people.
Eight-year-old Alok Kumar wolfs down potato curry in the waiting room of a charity clinic early one Sunday morning.
He suffers from thalassemia, a genetic blood disorder so serious it requires monthly transfusions for life.
This summer, Alok contracted Hepatitis C from a poorly screened transfusion in a government hospital where he qualifies for free care. Hepatitis C, if not properly treated, can lead to cirrhosis of the liver or cancer.
"Already, we are struggling to cope," says his father Kishore Kumar, who earns $120 per month. "I'm so angry - how could they make my child sicker?"
The National Thalassemia Welfare Society estimates that 6-8% of its own patients contract diseases, including HIV, through transfusions. Professional donors are usually drawn from India's impoverished population and are at higher risk of HIV, hepatitis and other diseases.
In 2013, two thalassemic children died and 21 others were diagnosed with HIV after a single, unlicensed blood bank was found to be transfusing patients without testing in Junagadh, Gujarat, reported the Indian Journal of Medical Ethics.
Even legal blood banks contribute to the overall problem.
State-of-the-art private hospitals charge up to $65 per unit, not for the blood itself, which is illegal, but for processing and testing. They also require replacement donors.
In March 2014, public interest litigation filed in Ahmedabad, Gujarat, where voluntary blood donation levels are high, revealed that local blood banks had earned up to $1.9m by selling on blood components.
They had collected blood for free from voluntary donors, but rather than sharing stocks with poorer hospitals, they had profited handsomely.
Non-profit blood banks, like those run by the Lion's Club or Rotary, charge between $38 and $45 per unit of blood, enough to cover the costs of running voluntary donor camps and offering high-end disease screening. But their services are concentrated in big towns and cities.
For hundreds of millions of impoverished Indians, paying for blood, particularly safe blood, is simply unaffordable. With supplies still woefully low, the system of touts is unlikely to disappear soon.
Until the government establishes a nationwide system of donor-friendly camps, where volunteers can give blood safely and comfortably, combined with uniform and rigorous testing facilities, it's unlikely India's blood market will disappear.
"There is this attitude now that you can pay money and get whatever you want," says Neha Dixit of Tehelka.
"If you're part of the urban, middle-class elite, you know you can afford it. The rest of India is not so lucky."
Related Internet Links
The BBC is not responsible for the content of external sites.